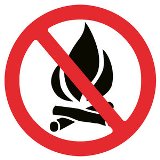 This is a reminder from your local friendly bushfire brigade that we are still in a prohibited burning period. You must not light any fire until 14 March and between 15 March and 26 April you must have a permit.
With the burst of hot weather and no rain in sight, it it very likely that these dates will be extended. You can get the up to date information here.
There was a smell of smoke after some showers recently. Possibly just a pile of leaves but if it gets into the dry grass even this can cause a disaster. So please observe the rules and save our volunteers from dealing with yet another major fire.